Quality Improvement and Accreditation
Kardel has a quality improvement process in place throughout the organization. The quality improvement process is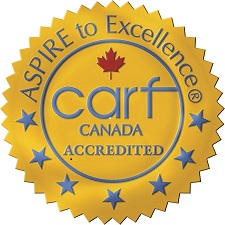 guided by the organization's commitment to improve outcomes for individuals supported who receive our services.  We utilize proven best practices from the community, other related organizations, and input from stakeholders.
CARF (Commission on Accreditation for Rehabilitation Facilities) Accreditation is a process that demonstrates that services provided have met international standards for their quality and also help us identify areas for change and growth. Kardel has been accredited since January 2004, when our services were first reviewed. In December 2006, CARF awarded Kardel its second three-year accreditation and in 2010 and 2014 we received further three-year accreditations.
In January 2017 Kardel received it's fifth three-year accreditation.  We are now accredited in the following service areas:
Community Housing
Community Integration
Host Family/Shared Living Services
Supported Living
Our services are accredited by CARF which is an international, not-for-profit organization that has accredited human service providers since 1966. CARF sends a team of professionals, called surveyors, to visit our homes and programs to evaluate our services against a set of standards. The surveyors consult with staff members, family, advocates, and people supported.
Click here to view the 2021 CARF Survey Report