Home Share
What is Home Sharing?
Home Sharing enables adults with developmental disabilities to choose an environment that addresses their specific needs and desires. Each home sharing arrangement varies depending on the unique needs and lifestyle preferences of the individual. Home Sharing increases the opportunity for people to establish natural relationships and social connections within their community. Individuals might live with a family, roommate, couple, or in their own suite within a family home.
Being a Home Share Provider
Home Share Providers are people who have opened their home to provide support to an individual with a developmental disability. They come from a variety of backgrounds and represent the cultural and ethnic diversity that makes a community. Regardless of background, all Home Share Providers are committed to the principles of community living and strive to create an inclusive community for everyone. Depending on the needs and wishes of the individual, Home Share Providers can assist with relationship building, life skills, meal preparation, personal care, and community access. Kardel is committed to finding the best match possible. Some individuals have specific care providers in mind, while others require assistance to find a suitable match. The individual is able to choose a care provider who best suits their support needs and lifestyle preferences. All Home Share Providers undergo an extensive home study process. Only those who are committed to fostering a true home environment will be considered.
Home Share Provider Application
Kardel is looking for Home Share Providers! Click on the "Apply Now" button below to save and fill out an application. Please email all applications to Kasie Gunn at [email protected]

Home Share Coordinators – South Island
Pat Ellison
Phone: 250-382-5959 Ext. 226
email: Email Contact
Fran Rowley
Phone: 250-382-5959 Ext. 234
email: Email Contact
Nicole Coutts
Phone: 250-382-5959 Ext. 233
email: Email Contact
Jen Yarnell
Phone: 778-535-4583
email: Email Contact
Lindsey Hofstrand
Phone: 250-382-5959 Ext. 238
email: Email Contact
Home Share Coordinators – Mid and Upper Island
Kari Warner – Nanaimo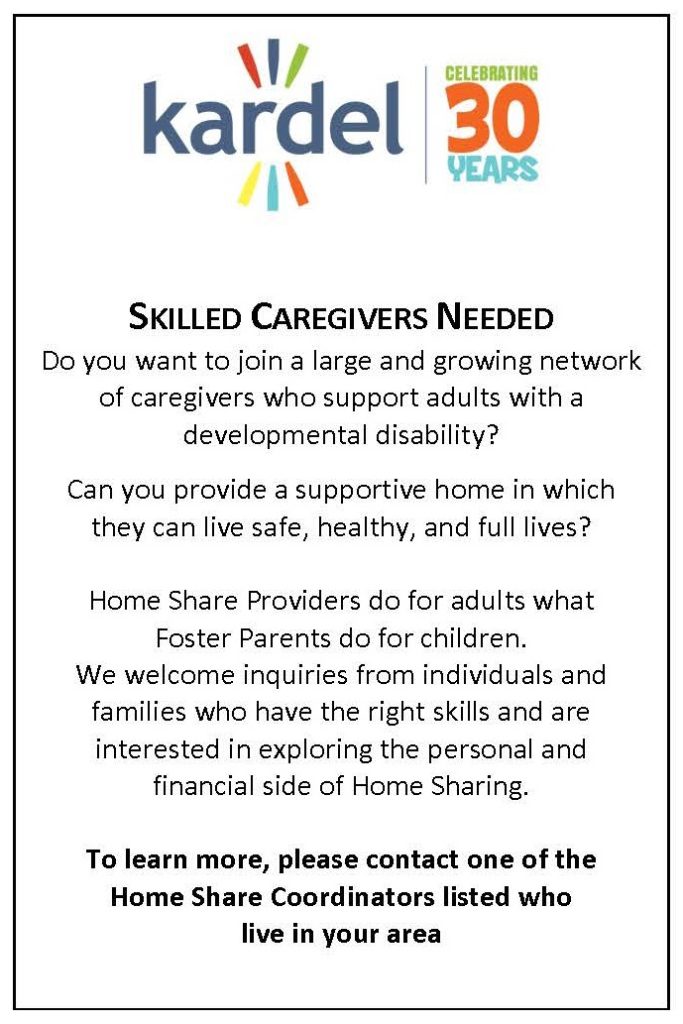 Phone: 1-250-729-7401
email: Email Contact
Bernadette French – Nanaimo
Phone: 1-250-824-0980
email: Email Contact
Holly Ebach – Nanaimo
Phone: 1-250-824-2626
email: Email Contact
Michael Plant – Courtenay/Comox
Phone: 1-250-338-6557
email: Email Contact
Jennifer Day – Courtenay/Comox
Phone: 1-778-225-0460
email: Email Contact
Colleen Yrjana – Campbell River
Phone: 1-250-914-7858
email: Email Contact
Jennifer Jiwa –
Campbell River
Phone: 1-250-287-8397
email: Email Contact