Hello Everyone!
Join Lifetime Networks for our Earth Day Donation Drive on Sunday April 22nd, 2018!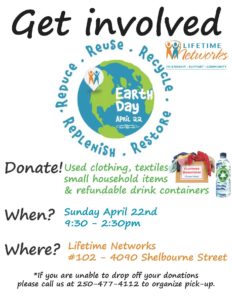 Our goal is to save 20, 000 pounds of reusable material from the landfills.
With community support and a bit of spring cleaning, we know we can!
We are accepting used clothing, textiles (sheets, towels, etc), small household items and refundable drink containers.
We are looking for donations and for helpful volunteers!
Please feel free to print our poster and post wherever you think it could be helpful.
If you'd like to get involved please contact Emily at volunteer@Lnv.ca.
If you have ideas of organizations to partner with or other ways to raise $ and donations for this event, please feel free to contact Farrah at farrah@Lnv.ca.
Thanks everyone!
Farrah, Carlene and Lyndsey