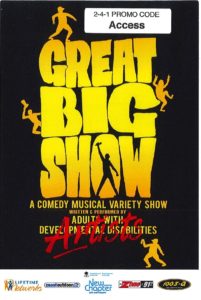 On February 23, 2017 Victoria based Delusional Productions began auditioning and assembling a collaborative theatre troupe of adult artists with developmental disabilities. Together they began a year long project, to write, compose, rehearse and perform a new original musical comedy variety show unlike anything anyone has ever seen.  The result of this project is "The GREAT BIG SHOW" which will have its world premiere at the McPherson Theatre in Victoria, BC., Feb 7-10, 2018.
A cast of 25 adult artists with developmental disabilities accompanied by a 7 piece rock band will take you on a hilarious and inclusive musical journey that simply could not have been created by anyone else.  The writing is brilliantly unique. The enthusiasm and joy that these artists bring to each performance might just make you fall back in love with humanity.
Showtimes are Feb. 7, 8, 9 at 7 pm. Saturday Feb. 10 "relaxed performance" at 2 pm. General tickets are $49.75 and available at GREATBIGSHOW.ca  Patrons who require support workers can call the McPherson box office at 250.386.6121 or toll-free 1.888.717.6121 to arrange free tickets for support workers.