In June, we mentioned an update about the changes to the bus pass program for people receiving the Persons with Disabilities benefit (PWD). These changes begin on September 1st 2016. We thought you would find it useful to see the new PWD rate system as it incorporates the $52 Transportation Support Allowance.
People who receive the Comforts Allowance, Room and Board, or PWD top-up will receive the $25 increase and have the choice between a bus pass or the Transportation Support Allowance in cash.
And just as a reminder from our last update, PWD recipients can switch back and forth between the bus pass and the Transportation Allowance. To do this they need to contact the Ministry by the 5th of the previous month to let them know (e.g. contact the Ministry by October 5th to start or stop the bus pass for November).  Click on the photo for details.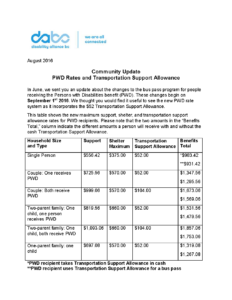 There are three ways to contact the Ministry about the Bus Pass:
By Phone: Monday to Friday, 9 am – 4 pm, 1-866-866-0800
By Email:  The BC Bus Pass Program at SDSIBUSPA@gov.bc.ca. Allow up to five business days to receive an email response.
Online via My Self Serve: My Self Serve at www.myselfserve.gov.bc.ca, once registered.
If you have any questions about this information, please contact Advocacy Access Program Director Sam Turcott at 604-872-1278 or 1-800-663-1278.