Join Our Team
Kardel's vision is a community where all members live a full life, feel included and are given equal opportunity to make empowered choices in their lives. You may have previous experience working with people with disabilities or experience in another support profession.  Working at Kardel provides many opportunities to find fulfillment and meet challenges in supporting others.
Do you value being part of a community?
Is helping others/making connections with people important to you?
Do you want to make a difference?
If yes, you may be a great fit for community support work……………we want to meet you!
We are actively recruiting Community Support Workers.  Please click on the link below to fill out an application.  Note: the application is a fillable PDF which could take a moment to pre-populate.  Once it's completed, save it to your computer then attach the document in an email to employment@kardel87.com.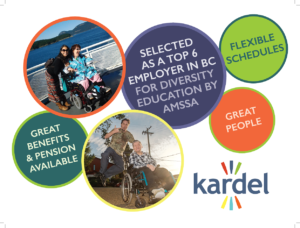 Click here to work with Kardel
Click here to volunteer with Kardel