Join Our Team
Kardel's vision is a community where all members live a full life, feel included and are given equal opportunity to make empowered choices in their lives. You may have previous experience working with people with disabilities or experience in another support profession.  Working at Kardel provides many opportunities to find fulfillment and meet challenges in supporting others.
Do you value being part of a community?
Is helping others/making connections with people important to you?
Do you want to make a difference?
If yes, you may be a great fit for community support work……………we want to meet you!
We are actively recruiting Community Support Workers.  Please click on the link below to fill out an application.  Note: the application is a fillable PDF which could take a moment to pre-populate.  Once it's completed, save it to your computer then attach the document in an email to employment@kardel87.com.
Click here to apply as a CSW with Kardel
Click here to volunteer with Kardel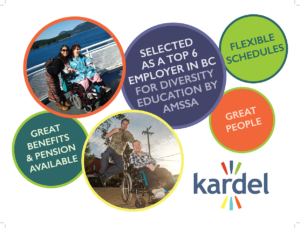 Home Share Coordinator in Courtenay and Nanaimo
Kardel is contracted by CLBC to provide Home Share coordination in 5 Vancouver Island communities. We currently have excellent employment opportunities in Courtenay and Nanaimo for someone who has experience in the delivery of services to persons with disabilities.  The Courtenay position is full-time and the Nanaimo position may be offered initially at 3/4 time but is intended to graduate to full-time within approximately 12 months.  If you are interested in playing an important and supportive role in the lives of these individuals and their care providers, we would love to hear from you.  We're looking for someone who is committed to working with people and sets a high standard in promoting health, choice, and community inclusion through individualized supports within the Home Share model.
Please submit your resume and cover letter for the Home Share Coordinator job posting to hsrecruiting@kardel87.com
Click here to view the Home Share Coordinator job posting
Click here to read the Home Share Coordinator job description