Join Our Team
Kardel's vision is a community where all members live a full life, feel included and are given equal opportunity to make empowered choices in their lives. You may have previous experience working with people with disabilities or experience in another support profession.  Working at Kardel provides many opportunities to find fulfillment and meet challenges in supporting others.
Do you value being part of a community?
Is helping others/making connections with people important to you?
Do you want to make a difference?
If yes, you may be a great fit for community support work……………we want to meet you!
We are actively recruiting Community Support Workers.  Please click on the link below to fill out an application. Please note only those applicants who are selected to continue in the recruitment process will be contacted.
Click here to APPLY NOW as a CSW with Kardel!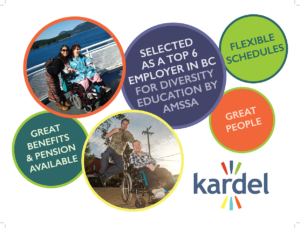 Community Nurse in Victoria
We are recruiting an RN to provide assessment, treatment, liaison with other medical professionals, and delegation to direct care staff. The position offers full time hours.  The work schedule can be flexible and a competitive compensation package including extended health benefits is available. Familiarity with developmental disability and Community Living BC service values are a definite asset.
What you need:
Must be a graduate of a Registered Nursing program and must be a member in good standing of the College of Registered Nurses of British Columbia ( CRNBC)
Two years previous work experience in an environment working with people with developmental disabilities is preferred.
Administrative and supervisory experience is desirable.
Fluent in basic computer software (word processing, email).
Good oral and written communication skills
Good interpersonal and problem solving skills
Understanding of the community living service network
Demonstrate initiative and ability to work independently
A First Aid certificate acceptable to CRNBC and tuberculosis screening
Criminal Record Check
Reliable vehicle
Please submit your resume and cover letter for the Community Nurse job posting to hradmin@kardel87.com