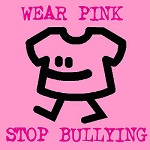 SafeCare BC reports there is growing evidence that workplace bullying and harassment has serious outcomes for employers and workers. 37% of workers have been bullied,with 57% of the targets being women.
Bullying and harassment doesn't just affect the person targeted – it affects us all. 
Bullying…
· Damages trust between colleagues
· Impairs communication
· Lowers self-esteem of those targeted and those who witness it
· Decreases the quality of care for residents
· Decreases the safety of care and the safety of the workplace
Click here for Canada's Safety Council's research and tips on working with bullies.
 Remember PINKSHIRT DAY .. FRIDAY FEBRUARY 24th
 LET'S WORK TOGETHER !